Science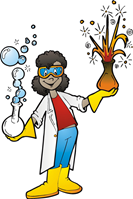 SCIENCE CURRICULUM INTENT STATEMENT
INTENT
At Butterwick C of E Primary School our intention is that our science curriculum inspires a passion for science by giving children the ability to think independently and raise questions about scientific concepts, theories, experiments and technologies through practical investigations.
We ensure children are able to articulate their ideas and conclusions through the correct use of scientific language as well as question concepts and theories about the world around them.
IMPLEMENTATION
We follow the 'Switched on Science' scheme for our weekly science lessons as it is a whole school scheme that begins in foundation stage and enables us to deliver a coherent and complete science curriculum which helps pupils to progress their knowledge, understanding and skills through spiral learning.
Year groups can adapt the lessons to suit their students' abilities and their particular interests whilst ensuring the full science curriculum is delivered. The scheme offers a multitude of cross-curricular links allowing teachers to embed science into other learning throughout the curriculum.
IMPACT
We have a whole school scheme for teaching science which develops scientific knowledge through spiral learning. By following this scheme, we ensure in-depth coverage of the national curriculum in biology, chemistry and physics and revisits all working scientifically skills regularly ensuring children have an understanding of the nature, processes and methods of science through different types of enquiries.
The lessons are engaging and include lots of practical activities that foster the love of science and allow children to explore and understand the world around them.
Children are encouraged to think independently and raise questions about working scientifically and the knowledge and skills that it brings.