Mini Police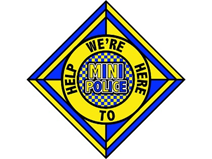 About Mini Police
Our school is a part of the Lincolnshire's Mini Police community cohesion project that has been running successfully in primary schools across Lincolnshire since September 2018.
It is a set a programme that is delivered to primary-aged children in years five and six (ages 9-11) during the school year. The programme covers a range of topics such as cyber security, speed awareness, school parking, speeding, anti-social behaviour and anti-bullying, to name a few.
The mini police are given a uniform to wear when they are 'on duty' and they have a variety of tasks to complete. This involves them carrying out and leading activities in various ways such as class based tasks and activities, whole school assemblies and playground activities, as well as activities out and about in our local community.
The programme is delivered by one of our local Police Community Officers and a member of our school staff team.