Curriculum
WHOLE SCHOOL CURRICULUM STATEMENT
INTENT
At Butterwick Church of England Primary School, the breadth of our curriculum is designed with three goals in mind:
To provide our children with experiences that develop Christian character, attitudes and actions – who we are, how we live and learn and where we fit in the world.
To provide a coherent, structured, academic curriculum that leads to sustained mastery for all.
To provide a rich 'cultural capital' which gives pupils the vocabulary in which to express themselves in a sophisticated, mature way and essential experiences, knowledge and skills to become educated global citizens.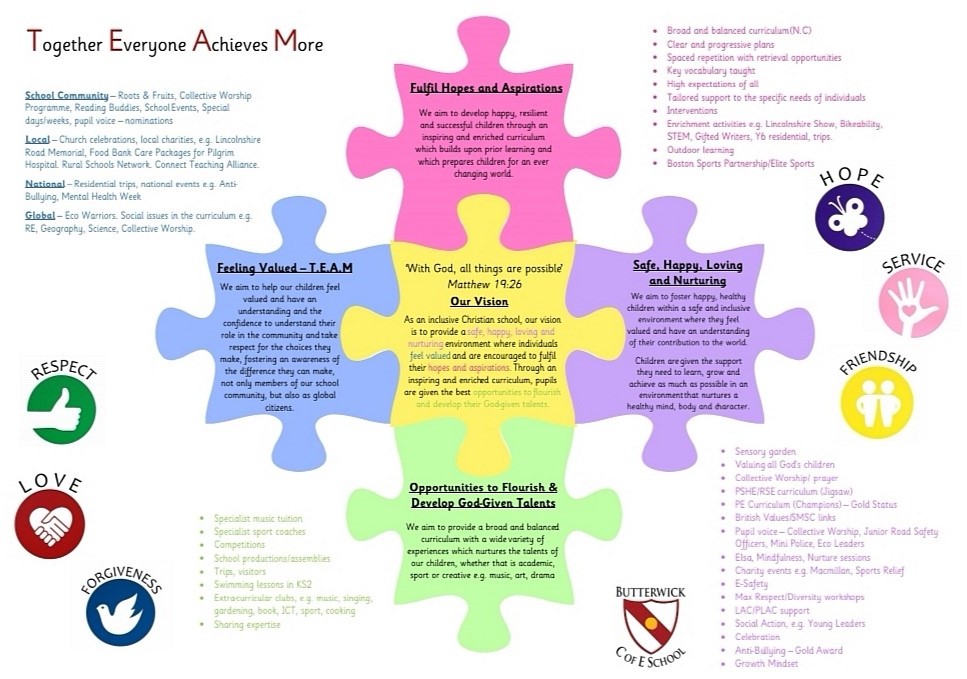 Please see the attached 'Vision Jigsaw' overview to enlarge this file.
IMPLEMENTATION
Our school 'Christian' values (including British values and SMSC), Collective Worship programme/ PSHE curriculum and enrichment activities underpin our holistic approach to learning.
The academic curriculum uses either the EYFS or the National Curriculum as the basis for content and expectations.
We have developed a two year rolling programme that is structured so that each year group has:
a) A clear list of what must be covered (curriculum map)
b) Threshold concepts (the big ideas) that pupils should understand
c) Criteria for progression within the threshold concepts
Curriculum maps for each year group ensures each teacher has clarity as to what to cover. Threshold concepts are the key disciplinary aspect of each subject that will shape pupils as, for example, historians, geographers etc. Milestones define the standards for the threshold concepts. Finally, we expect pupils in year 1 of the milestone to develop a Basic (B) understanding and sometimes Advancing (A) and an Advancing or Deep (D) understanding in Year 2 of the milestone. We understand that learning is invisible in the short-term and that sustained mastery takes time.
Some of our content is subject specific, whilst other content is combined in a cross-curricular approach. Continuous provision, in the form of daily routines, replaces the teaching of some aspects of the curriculum and in other cases, provides retrieval practise for previously learned content.
In all curriculum areas we put a high importance on subject specific vocabulary ensuring children have the ability to communicate or express themselves as, for example, a scientist, a historian etc.
IMPACT
Our children will have a confident set of skills, knowledge, norms and Christian values which can be used to get ahead in education and life more generally. In short they will learn more, remember more, enjoy more and develop more spiritually, socially and emotionally. Thus enabling them to be ready for their next stage in education.
The impact of our curriculum is that by the end of each Milestone, the vast majority of pupils have sustained mastery of the content, that is, they remember it all and are fluent in it; some pupils have greater depth of understanding. We track carefully to ensure pupils are on track to reach expectations of our curriculum.
We will widen children's horizons, giving them the desire and aspirations to help them achieve goals and become successful global citizens.
Please see subject tabs for specific curriculum intent statements.