Lincolnshire Show winners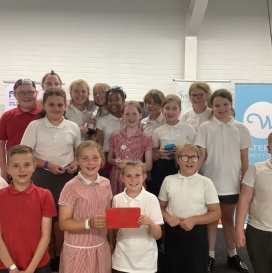 On the 22nd and 23rd June, the Year 5 and 6 Lincolnshire Show Club took part in the Schools' Challenge. They have worked incredibly hard over the last few month; researching, designing, baking and practising.
The children delivered a fantastic presentation to the judges, offering them samples of their bakes and making them laugh with their vegetable photo booth and news report. They talked enthusiastically and confidently to members of the public, many of whom made a point of complimenting the children on their project. There was some strong competition but Butterwick Biscuit Bakes came 1st in their category with a fantastic score of 32 out of 35. Well done to all of the children involved – we are very proud of you!