Sports report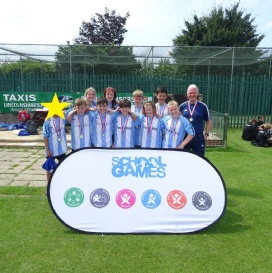 Sport
We had a terrific week of sport last week and it has been great to see lots of pupils being allowed to get back to some sort of 'normal' and being able to represent our school at football, cricket and tri-golf. The coming week is also going to be busy with more football matches and a 'capture the flag' event.
Tri-golf
First of all, we had 2 teams representing our school in a tri-golf competition against various other schools. Both teams played really well and showed skill, teamwork and a very positive sporting attitude. One team managed to win their competition and the other team came a creditable 3rd overall which was really pleasing to see. They all came back to school proudly showing off their medals.
Football
On the same day as the golf, our boys football team went over to Holbeach to play in a 16 team tournament. They also did really well and played some terrific football throughout the day. They won their group with 3 wins out of 3, then won their quarter final 2 – 1 before eventually losing 3 - 2 on penalties in the semi-final. In spite of dominating the game throughout, we just couldn't get that all important goal and we didn't get that bit of luck you sometimes need, but I was really proud of the way they played, their sportsmanship and the way they handled the defeat. They were a credit to the school and themselves.
Cricket
We finished off the week with a day of cricket at Boston Cricket Club on Friday 9th July. This was a 5-team league format where each team played each other once. The squad were excellent all day; they learned and improved with every game they played and showed some great skills in all aspects of cricket from their fielding, their batting and their bowling. Our pupils were supportive of each other throughout the day, played really well and showed a great team togetherness and also terrific sportsmanship towards their opponents.
The way the league went our last game was against Boston West who, like us, had won all their previous games so it was a very tense 'winner takes all' game in the very last match of the day. We ran out eventual winners; I'm not sure by how many runs because I couldn't hear due the huge cheers from our squad when they realised they had won. Well done to the squad, who finished with a played 4 won 4 record, which was fully deserved. One of our players also took a hat trick in the final game, which was a great achievement and also him earned a 'champagne moment' that is awarded to someone who did something outstanding in a game. Well done to all concerned.
Thanks to Mr Woodcock for helping me out on the day and also to Boston Cricket Club, Matt Haslam, who leads our sports partnership and organises these events and all the sports leaders from Haven High who kept score and umpired throughout the day.