Summer Spectacular Raffle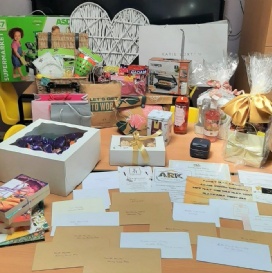 Summer Spectacular Raffle Draw.
On Friday afternoon, we drew the winners for our Summer Spectacular Raffle 'live' to all classes through Zoom.
All prizes have been distributed and we wanted to say a big congratulations to all of the winners.
A HUGE thank you to those who donated prizes, helped sell tickets and bought tickets too!
With your help, together we have raised over £2,000 which is an absolutely incredible amount and will go a long way in providing new physical books for our reading scheme, Bug Club.

Here is a final thank you to those who gave prizes to support our fundraising event.
ARK Wildlife Park, Tattershall Farm Park, Rand Farm Park, Soft Play and Role Play Centre – Sheffield, Geoff Moulder, Hardy's Farm, We'll Meet Again WW2 Museum, Maudes, Something Special, Little Beau Prints, Debs Oliver, Jump Warrior, Mr and Mrs Bladon, Bells Nursery, Mr Ellerby, Dale Broughton, Helen Staples, Karen Beck, Co-op, Harmony Hair, KnT Fragrance, Kinema in the Woods, Sprinkles by Lucy, The Beauty Branch, J&J Fuels – M&S Voucher, Waterstones, Aisha Bushby, Sweet Sensations, Coneys, Bouquets of Fun and Kekolo Chocolate Treats, Frances Taylor, Asda, Cakes by Rosie, The Homely Hare, Kis&Makeup by Rachel Bray, Highgate Nursery, Hidden Beauty with Leanne and Evie&Mama's Beauty Deals.