Girls Cricket Competition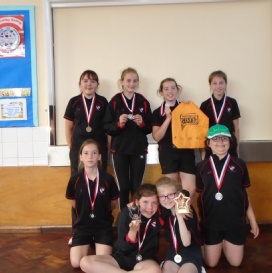 Girls from Years 5 & 6 represented the school at the Girls Kwik Cricket Tournament
Well done to the girls who represented our school at the all-day Kwik cricket tournament at Boston Cricket Club on 14th June.
They had an excellent day all round and showed great teamwork, effort and skill, sportsmanship and a positive attitude throughout the day. They eventually finished in second place which won them individual medals and the 2nd place trophy. They also won the fair play trophy and Emily won a 'champagne moment' for her batting skills after hitting three fours and one six in a single over!
They were a credit to the school in the way they performed, their sportsmanship, team work and their all-round behaviour and attitude. Well done to all the girls who took part.